Who are we?
Current Committee
President
Maura Hillen
president@almanzora-au.org
Vice President

s

Sandy Tyrrell
David Tyrrell
Secretary

Derek

Brown

Treasurer
Geraldine Day
Membership Secretary

Sandra Higgins

membership@almanzora-au.org

Committee member

Bill Garred
History of the AUAN

In April 2005 a large number of people met at a venue in Albox in a meeting organised by Bob Preston to discuss an issue involving the levying of a high amount of land tax which property owners may have had to face.
At this meeting it was realised that many owners could not obtain essential documents such as building licences, Escritura and had other difficulties concerning their properties.
In the middle of 2006, Bob Preston,Dick Cooper, Ken Botterill, Mike Phillips and Des Thompson got together. The group decided that their focus of attention needed to be on the Plan General de Ordenation Urbana (PGOU). This plan was the basis on which it would be decided which developments and houses built on them could be 'regularised'. In other words, legalised.
It became clear they needed help and advice. Contact was made with Abusos Urbanisticos No (AUN). This organisation was well established and focussed on the issue of Land Grab in the Valencian region.
The AUN was extremely helpful. A lawyer and planning professional were also contacted. It became clear that great difficulties had to be faced : Threat of demolition, problems obtaining the necessary legal documents for our homes such as Escritura, License of First occupation etc. Many also faced the possibility of having to bear heavy costs to install infrastructure on their developments and there were land grab issues. Court action against many homeowners appeared to be a real threat.
By now, the original group of five had grown to ten.
The group was advised to form itself into an entity, elect an interim committee then register itself under Spanish law as an Association. A General Meeting was held on November 30th 2006.
The entity was created and the following people were elected to form an interim committee:-
President Bob Naya
Vice President Bob Preston
Treasurer Anne Wilson
Association Secretary Carol Dunkley
Membership Secretary Carole Maneely
The following were then co-opted by election to join the committee, bringing the number of interim committee members to ten:-
Chair of Meetings Bob Morland
Member Mike Phillips
Member Ken Botterill
Member Tony Mason
Member Des Thompson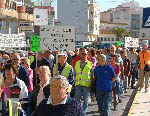 Funding was identified to bring about the legal status of the Association which was to be known as Abusos Urbanisticos Almanzora No! (AUAN).
In the meantime, the committee carried out its members mandate to implement a strategy which included media publicity, contact with politicians and other groups who could further our cause. The first protest march was organised to highlight our situation. It took place on the 17th January 2007.